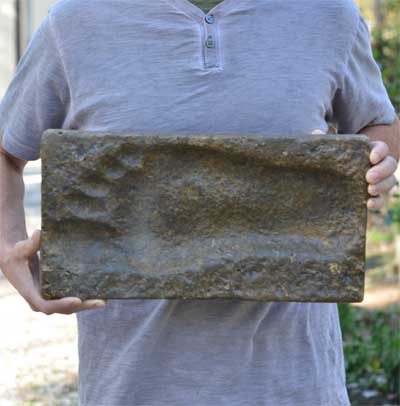 The story behind the discovery of this fossil human footprint is remarkable and what makes this print so amazing is that when it was discovered it was initally examined by a professional geologist.
In the late 1950's, geologist, Dr. Billy Caldwell, had left the oil business becasue the price of oil had dropped to all time lows. He started a business as a stone supplier in the Fort Worth, Texas area.
Mr. Caldwell had stone suppliers that would bring stone from all over the United States. One day in 1964, his stone supplier from Glen Rose, Mr. Bill Osborn, came to his shop and told him that he had something in the back of his truck that he wanted Mr. Caldwell to see.
Mr. Osborn proceeded to show Dr. Caldwell a very large slab of stone with a giant human footprint impression in it. Mr. Osborn stated that he and his workers had discovered the giant human track in the Paluxy River while quarrying stones and that business had been slow so he had decided to chisel the footprint out of the river bed.
Dr. Caldwell examined the human fossil footprint and attests to its authinticity. A short time later, Mr. Osborn informed Dr. Caldwell that he was selling the print to a man in Houston, Tx. Mr. Caldwell asked Osborn if he could have a casting of the print made before he sold it, and Osborn agreed to this.
The origianl print was then sold. It is beleived that the original print was last seen on display at the 1965 World's Fair and has never been seen since.
The original cast that was made by Dr. Billy Caldwell is located and on display in the Creation Evidence Museum in Glen Rose, Texas.
Below is and notorized statement from Dr. Caldwell. Watch Dr. Billy Caldwell's full interview.